Disclaimer: The term "bohemianism" in the following context does not refer to its indigenous peoples of Bohemia (the Czechs).
SEAL BEACH, CA – Stars Hollow, the quaint town in the TV show "Gilmore Girls" may have been inspired by the cozy hamlets of New England, but miscellaneous hippies and bohemian artists hold this aesthetic significantly. Stars Hollow carries a nostalgic sentiment seldom found in our Californian suburbs. Yet Main Street in Seal Beach seems to be one of the last eccentric, old-fashioned "small towns" still standing in the Los Alamitos area. Bringing a mixed range of free spirits, unique artists, and bohemian buskers, the beach town conflates contemporary culture and Stars Hollow's lovable timelessness, casting a similar quirkiness and tender aura. 
History of bohemianism
"To fleet the time carelessly, living for love and art—this is the temper and spirit of the modern Bohemian in his outward and visible aspect. It is a light and graceful philosophy, but it is the Gospel of the Moment, this exoteric phase of the Bohemian religion," claimed Gelett Burgess, an impish American writer, as published in Art and Popular Culture. Although the bohemian impulse was seen in the mid-19th century, it overrode America in the 20th century. Bohemians in the 1910's were classified as obscene, particularly for their sexual liberation. Leading up to the Jazz Age and Beat Generation, bohemians became associated with anti-establishment political and social standpoints, especially during the Vietnam War.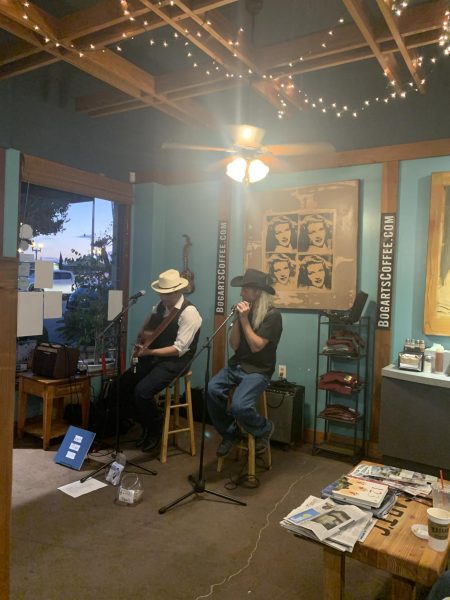 "The term bohemian has come to be very commonly accepted in our day as the description of a certain kind of literary gypsy, no matter in what language he speaks, or what city he inhabits," said the 1862 Westminister Review, as published in Bohemio Bookbindery. Whether one is impoverished or aristocratic, the movement still idolizes non-materialistic devotion to one of the seven arts; these include music, sculpture, painting, literature, architecture, performing, and film according to the art and popular culture newspaper. 
What makes Main Street "the small town" for original artists?
Since its founding in 1915, Main Street in Seal Beach has long been influenced by its creative output, hermit lifestyle, and intimate community. Musicians in vintage Volkswagens can be seen strumming an acoustic guitar near the Irisher, a by-the-sea bar, and dine-in, till all hours of the summer day. Blues jazz buskers, cloaked in wool sweaters and leather coats, can often be found near the Seal Beach Police Department. Whether the music is melancholy ballads or romantic lullabies, encounters with these artists astonish locals. Thanks to the diversity of Main Street, people can appreciate past generations while cultivating a love for fresh music, paintings, philosophy, and lifestyles. With the exception of singer-songwriters, the use of public recognition to gain acknowledgment was revealed after inquiring the cellist in the band Jazz Beach.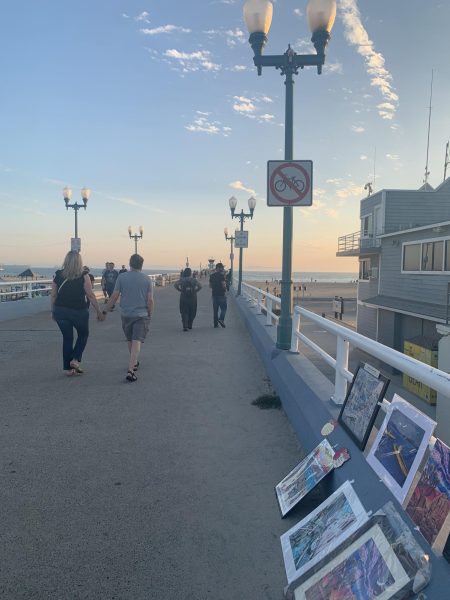 "We do jazz band music… We make them all different… but they're the same chord sets in the songs so that people have some recognition of the material… because if they're completely unfamiliar with the song, it doesn't sound very good. We don't have a singer at the time being, so we have to know that in the back of your mind, you've heard our songs before," the cellist said.
"Blowin' In the Wind" (1962), "The Times They Are A-Changin'" (1964), "Hurricane" (1975) – all are lauded songs by Bob Dylan known for their reminiscent and profound lyrics. Feter Martin Homer, known for his Michigan blues, encaptured this beautifully on the night of Sept. 8 at Bogart's Coffee House.
Hosting shows as another way of promoting raw or undiscovered bands and singers, Bogart's Coffee House invites guest musicians to showcase their music starting at 6 p.m. every Tuesday. (Events can also be accessed on their official website.) Another local journalist in Bogart's reviewing the Martin Homer crowd mentioned how people of many ages and backgrounds shared a close-knit love for the bohemians in Seal Beach, and how interesting that universality was.
"
My earliest memories are singing Michael Jackson, Stevie Wonder, and gospel music in my preschool."
— Mr. Rufus, an indie folk singer
Story continues below advertisement