Godzilla invades Los Al's campus
The successful spring concert of Los Al Orchestra and Band
LOS ALAMITOS, CA — The Los Alamitos High School year of 2023 saw its final Spring Concert for Orchestra and Band on Monday, May 22 in the PAC.
The interesting events at the concert will forever remain memorable compared to past concerts.
For one, this is the first time both orchestra and band combined in a piece to create a full orchestra. The full orchestra played "Bloom," composed by Steven Bryant. 
Mr. Crocket, who teaches Los Al's band, commented on such collaboration.
"This is the first time, which is probably more special because the kids got to be around each other more and hear each other as players and musicians," he said. 
Mr. Padilla, who teaches Los Al's orchestra and jazz band, continued about the significance in this collaboration."There is this unique synergy and connection that, like Mr. Crockett said, they don't get all the time. It's a super special piece that gives them an opportunity to rise to the occasion and challenge them just enough," he said.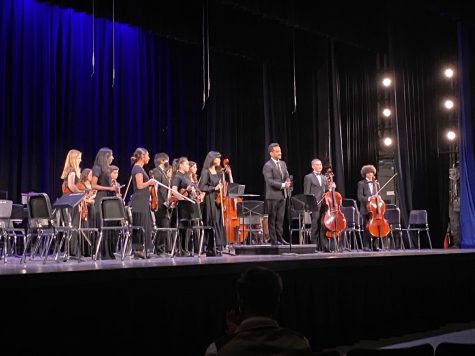 During the Spring Concert, the set list targeted notable pieces by well-known composers such as Tchaikovsky to modern inspirations like "La La Land," composed by Hurwitz and arranged by Robert Longfield.
During intermission, a student named Sebastian Barth played a solo on the xylophone. Known for his perfect pitch, according to Mr. Crockett, Barth's headphones protected him from high pitched sounds.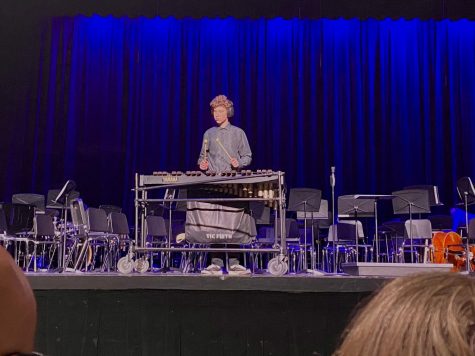 The string orchestra performed three pieces of "Overture to Ruslan and Ludmila," composed by Glinka and arranged by Robert D. McCashin, and "June," composed by Tchaikovsky and arranged by Herman Clebanoff.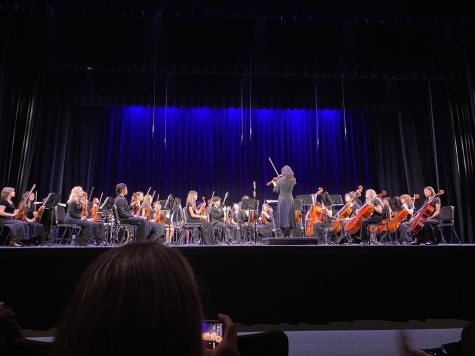 One of the music program's very own students composed a piece performed by the wind symphony. Named "Persistence for Wind Band,"  the student composer Nathan Wang originally wrote the piece in two weeks for a composing competition. Wang explained the layout of his music.
"It starts off with how my high school started off with: very joyous and carefree… and then something happened in my junior year and to this day I'm still not sure what it is, but it got a bit darker," Wang explained. " I started not enjoying music as much."
Wang proceeded to describe the year in which he regained his passion in music and how he's now in six active bands.
"There is a saying that I really like that this piece is named after, the fact that 'passion will always persist if you really do have it,'" said Wang before the wind ensemble's performance of his piece.
A fellow peer from the wind symphony commented on playing Wang's piece.
"I've known Nate for his entire music writing career, and to see how far he's come was so cool to see," said Young Dokgo, a Los Al senior musician who played in the wind symphony.
Following the performance, Wang expressed his opinions on the piece.
"Honestly, I couldn't be more happy about the way it turned out. Everything hit and it was challenging music, but the performers did a fantastic job at capturing what I had in my mind," Wang said.
A shocking, creative piece to wrap up the concert left everyone with a notable picture of what it means to use mixed media. Performing the piece "Godzilla Eats Las Vegas," composed by Eric Whitcare, the wind ensemble chose to sync up the music they were playing to a video projected in the PAC. Not only was the last piece dedicated to the famous Godzilla figure, but it also premiered some shocking actors and actresses on stage. This final performance was indescribable in the best way possible.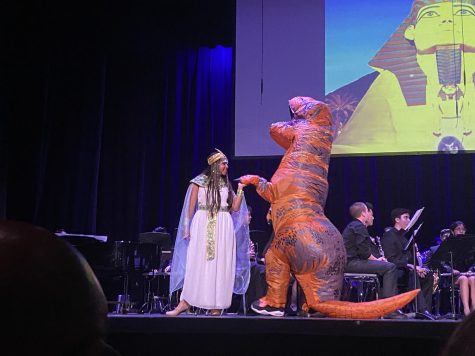 "High school band is such a unique and special experience, not only to me but for everyone. And to finally be at the finish line is a weird, almost empty feeling of realizing that it's over," Dokgo said.
Los Al's orchestra and bands have left their trace on the rest of the school year with a bang, and it has brought unity to all parts of Los Al campus.
"I think it's called a collective effervescence when you're together and you're all vibing and you're all grooving for the same reason. But the only way you're vibing and grooving is [if] you did the work on your own. There is this immediate reward you get for the hard work times fifty," Mr. Padilla said.