LOS ALAMITOS, CA — Recently added to Los Alamitos High School, the Oasis, which is a desert garden, had its grand opening on Sept. 5. The event featured speeches from valued education district members, such as Los Alamitos Unified School District Superintendent Dr. Pulver, Board of Education President Mr. Forehan, and Mrs. Logue, the Executive Director of the Los Al Education Foundation (LAEF). As well as speaking about the creation of the Oasis and the goals of the new space, they told stories of Jusdeep Sethi, whom the Oasis is proudly dedicated to.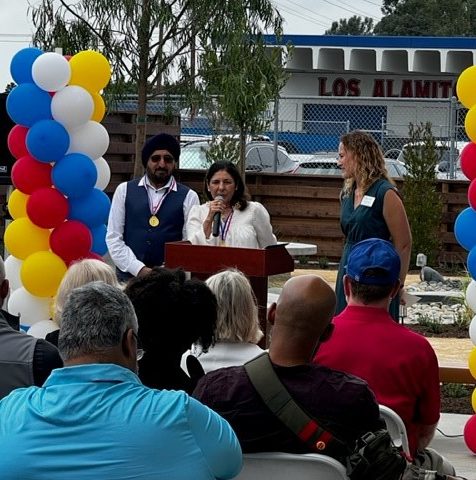 An alumnus of Los Alamitos, Jusdeep Sethi was a treasured member of the school community and throughout his life had a deep connection with nature. In dedication to their son, the Sethi Family lovingly donated to the Oasis to help bring others the joy of nature. During the ceremony, the Sethi Family was able to speak about their cherished son who was unfortunately lost too soon.
"On behalf of the Los Alamitos Unified School District Board of Education, we are very proud of how our District, the Sethi family, and our school community came together to create a tranquil space for students to find peace during their challenging days," Mr. Forehan wrote in an email.
As Jusdeep Sethi would have loved, the Oasis is a place for students to feel the calming effects of nature. Located in front of the WellSpace in room 653, the vibrant plants, soothing water fountain, and the relief of fresh air all help reduce the stress students face in their school lives. Since the grand opening, the Oasis has been regularly utilized with students sitting out in the new space to do homework, eat lunch, and even to simply immerse themselves in the properties of nature.
Story continues below advertisement
Mrs. Ledterman, the head of the Oasis and the WellSpace, explained how she has advocated for students to take advantage of the new quiet space. She gave an example from an experience she had when a student was struggling with an art project.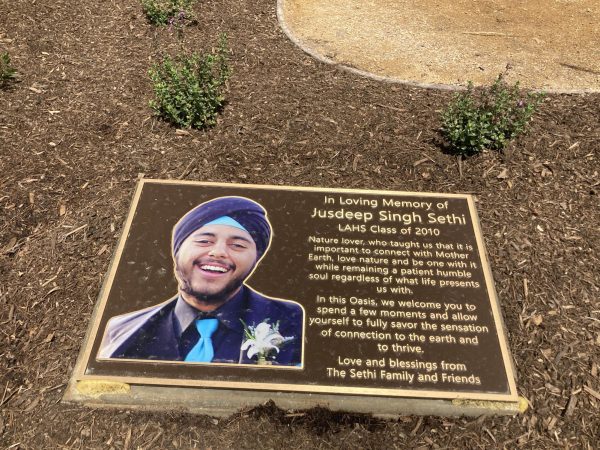 "[I asked her if she had] thought about going outside sitting by the water fountain. Sure enough, she came over during art [class], and sat outside and sketched," Mrs. Ledterman said.
Through the support of the Sethi Family, LAEF, and the Los Alamitos Board of Education, the Oasis is now open for all to enjoy. So, whenever you need a space to relax, unwind, or refocus, the new Oasis is there for you.
"

It is through this collective focus that we strive to ensure we provide meaningful experiences and nurturing spaces that promote wellness and a sense of belonging."

— Mrs. Kraus, Los Al's principal