Drama presents: 'Freaky Friday'
Los Al Drama presented a production of the musical "Freaky Friday," written by Bridget Carpenter and composed by Tom Kitt and Brian Yorkey
LOS ALAMITOS, CA — Sophomore Leo Athy and junior Elle Davis starred in Los Al's student-run production "Freaky Friday" in its premiere on Thursday at 7 p.m. in the Performing Arts Center.
Subsequent showings occurred on March 10 and 11 at 7 p.m.; there was also a 2 p.m. matinee on March 11.
"Even though I… have the final say on everything, my role is more of a producer," Mrs. Castiglione, head of the drama department, said.
The musical, based on Mary Rodgers's 1972 children's novel of the same name, was adapted by Disney Theatrical Productions in 2016.
The story follows Ellie Blake, a young woman, and her mother Katherine as a magical hourglass throws their lives into disarray. Athy, who played Ellie, liked working with her coworkers; she favored the character Mike Riley, played by junior Nathan Spolter, and found the chance to work with seventh-grader Evan Revell very fascinating. Athy also enjoyed the comedy in the song "Women and Sandwiches" during the second act, so much so that she sings it outside of practice even though she is not featured in it.
Athy, though only in the beginning drama class and without prior singing experience, landed the role for Ellie upon her audition for the musical; she found some of the choreography during the song numbers challenging but felt other aspects of the theater work were more manageable.
"We had our ups and downs, but in the end, [Elle Davis] was really fun to work with," said Athy of her experience with her co-lead, who played Katherine.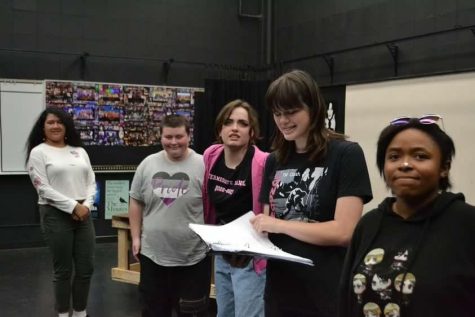 Athy spoke highly of Mrs. Castiglione for giving her the opportunity to partake in the play and being a great person to work with.
During the prep for the show, the actors first had to learn their extensive list of vocal parts for three weeks before winter break. Only after this process was fully completed were the actors able to train the blocking and choreography for the set.
There was a week of tech rehearsals prior to the week of the musical as well as a preview presented to middle school students on March 8. Jonathan Reyes, the stage manager for the show, said there were roughly 400 cues for specific show elements like lighting, music, and sound effects. In fact, this meant there were 200 cues for each act of the musical, which presented difficulties from their sheer number.
Reyes also mentioned a setback with blocking rehearsals due to the fact that Mrs. Castiglione came down with laryngitis.
"A cast list is… like putting together a puzzle because you may be a beautiful puzzle piece, but you might not fit into the puzzle we're putting together," Mrs. Castiglione said about the list that she spent hours painstakingly forming for the production. 
The musical itself was a complete success and sold over 100 tickets on opening night.