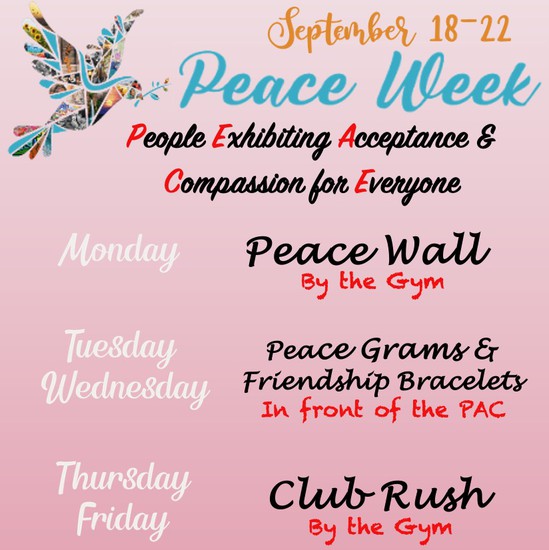 LOS ALAMITOS, CA — From Sept. 18 and continuing until Sept. 22, Los Alamitos High School will be engaging in a busy week filled with positively stimulating activities in order to promote acceptance and compassion within students.
Peace Week, which is an acronym to summarize "People Exhibiting Acceptance and Compassion For Everyone," is a week-long celebration with intentions to provide recognition towards the achievement and maintenance of peace. As a result, students had the opportunity to partake in a wide variety of exciting opportunities that Los Al has offered throughout the week, such as the Peace Wall, friendship bracelet exchange, and Club Rush. 
"I hope it contributes to a sense of understanding, belonging, respect and appreciation for the differences that we might have on campus from others and just fully being able to make ourselves aware and make us [a] stronger and more connected campus," Mr. Hyepock, the Assistant Principal of Arts, Facilities, Athletics, and Activities at Los Al, said.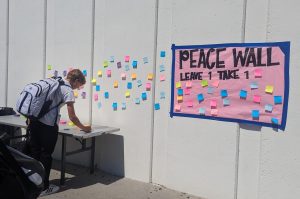 For the week-long celebration, Los Al intended to take full advantage of the beneficial week through the promotion of attention-catching events. From Monday, Sept. 18, Los Al erected a Peace Wall near the gym and remained up until Peace Week ends. From this Peace Wall, students were able to find a variety of encouraging and positive notes while having the opportunity to leave one of their own on the wall. Quotes on the wall ranged from feel-good messages to encouraging quotes that promoted hard work. 
Story continues below advertisement
"Peace week means to me, spreading peace to my surroundings and [people] around me," said ASB member, Leah Rojo.
From Tuesday to Wednesday, ASB organized the distribution and exchange of peace grams and friendship bracelets outside the PAC. These grams and bracelets allowed students to participate in a creative way while offering an opportunity for close community, communication, and connection. 
The most anticipated event that will take place on campus on Peace Week is Club Rush on Thursday and Friday by the gym. This event on campus has generated the interest of hundreds of students every year. They have the ability to pursue the discovery of diverse interests and organizations that have been made available on campus to provide a thriving community.
"The activities that were set up [were] really fun to participate in and it [makes] the week a little more enjoyable and interesting," said Sydney Chang, a junior at Los Al.
As Peace Week continues, it is important to emphasize the importance of spreading a community based on love and support year-round.