Krispy Kreme: Free dozen for seniors
Once a year, Krispy Kreme gives out a free dozen donuts for all high school and college graduation
LOS ALAMITOS, CA– Krispy Creme reveals that high school and college seniors may receive a free dozen donuts with a valid student I.D.
The promotional program has been relevant throughout the last three years. However, this year, instead of fancy decorated donuts with the students graduation year, each dozen box contains a "Dough-ploma." The tradition began amidst the COVID-19 pandemic as a method to provide comfort for 2020 graduates who missed out on typical "senior" activities.
"I didn't even know it was going on today!" Micheal Warren, senior, said. "I'm going to go after school!"
In order to to receive a free dozen donuts, all senior students are required to provide a current student I.D.; if a student does not have their student I.D. present, wearing a graduation cap and gown, or 2023 graduation clothing also works.
Every year, Krispy Kreme reveals the day prior regarding the delicious senior activity. This, most theorize, is a method to prevent an abundance of crowds attempting to partake in the companies promotion. This, in addition, creates a sense of excitement and builds consumer loyalty.
Personal Thoughts
For me, I arrived at my local Krispy Kreme at about 5:45 a.m., with the hope of beating the crowds before opening. However, despite my best efforts, I arrived with a drive-through lining exiting the parking lot and filling into the street. The wait, although seemingly long at first, was only 45 minutes; employees did check my I.D. but nothing more than a quick glance before handing me my box.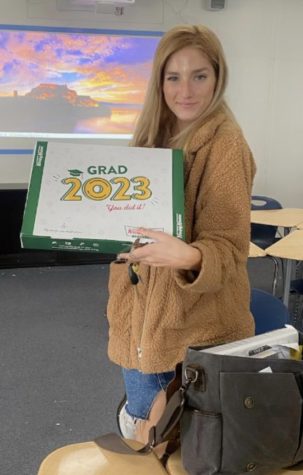 The box was 12 original glaze donuts, hot and fresh, and definitely flavorsome. Obviously, I had no ability to be able to eat all of the donuts myself so naturally I shared with my journalism class during my fifth period.
Overall, not only does the promotion encourage customer sales, despite its free giveaway, but also motivates buyers to return to the participating stores to purchase the various food and drink items on the menu.