Color guard and drumline Spring Showcase 2023
Los Al's color guard and drumline brought performing to a new level in this year's 'Spring Showcase'
LOS ALAMITOS, CA — Los Alamitos High School's color guard and drumline performed excellently during their Spring Showcase on Friday, April 21. The show was held in the Los Al gym and started at 7 p.m. The gym was packed with the families and friends of student performers. Even Los Alamitos Unified School District board members such as superintendent Dr. Pulver and assistant superintendent Mr. Forehan came to support and watch the spectacle.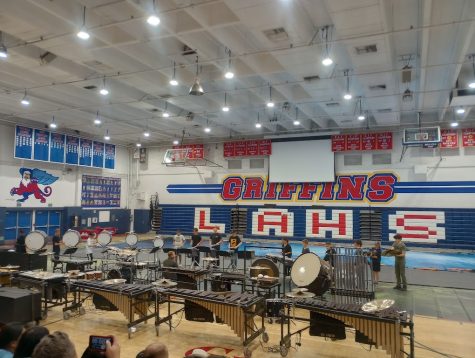 After a warm welcome to the audience by Los Al's marching band director, Mr. Crockett, the event was kicked off by Junior Drumline. Students from Oak and McAuliffe Middle School who displayed their skills on drums, cymbals, and xylophones marched in place for rhythm and flawlessly executed the performance. At the end, high school drumline students exploded into loud cheering and clapping to show support for the future Griffins.
During the transition between the first performance and the next, Color Guard's lead coach, Mr. Rodriguez, provided an introduction and spoke about their performance. The theme of the show was titled "Burn," he explained, and the emotions of sorrow and fury were depicted through dramatic movements, brightly colored flags, and the smoke-gray costumes of the performers.
The show started with the performers sitting on the ground with their heads bowed. When the soundtrack played a melancholic tune, the synchronized students moved gracefully, capturing misery and pain. The audience watched the performers switch out props, tossing rifles and flags into the air and then catching them behind their backs precisely. The flag colors transitioned from a hazy purple to a forest green as the performers executed stunts and complex choreography.
The audience gasped when fire-colored flags suddenly exploded into view. The performers waved them in wide arches as the soundtrack hit its climax. In one moment, the show became a great wildfire of raw emotion and brisk movement.
After more dancing and tossing and waving flags, the show ended with two performers reaching out hands to each other from opposite ends of the stage, as if in despair and anguish. The crowd broke into a deafening applause after the approximately four-minute show.
"
Though it might look easy, it takes skill, dedication, and strong control over your mind. Performing is a feeling like no other.
— Emi Tsouras, color guard member
"It's a lot of hard work, a lot of rehearsal hours, but it definitely pays off to see a well-put-together product at the end," Mr. Rodriguez said after the show. "I'm proud of this show, this product, and I hope [the students] are too."
After a second transition, drumline students began their show by laying down or hiding behind instruments. A soundtrack played on speaker boxes, which was then accompanied by the xylophone players and the synthesizer operator. The drummers played a war-like rhythm, evoking goosebumps as the beats echoed throughout the gym.
Dressed in samurai-like costumes, the performers made fierce facial expressions whenever the show would hit a dramatic note. Drummers moved in formations while playing their instruments before putting them down and switching to long poles. The performers made quick movements, thrusting their staves into the air and crossing them together in combat-like choreography. Every drumline student stood in a battle pose with warrior facial expressions when the performance hit its thrilling conclusion.
"
It was fun being able to perform to all my friends and family and to see this year's Junior Drumline.
— Dominic Alberico, drumline member
"I hope one day Los Al will become a world-class drumline," said drumline member Nathan Wang.
Before the event ended, Mr. Crockett presented a video to the students and the audience that would hint at what next year's show theme would be. He explained that he wanted the students to present their own ideas for the show, which is something different compared to previous years. The video showed images of vibrant color, light, and abstractness, and then disclosed the new theme titled "Chromatiscope."
"[It] seems like such an interesting show and I can't wait to be a part of it!" said Tsouras.
Then, a second video played that announced which students in drumline/marching band and color guard had received leadership positions in their groups. When names were announced, the students cheered enthusiastically for their peers.
"Leadership here is very important," said Mr. Crockett. "When I got hired, the previous director told me, 'Paul, just stand back and watch, the kids are gonna navigate all of this.' And it really is true, the kids here… when they get a role or get a title, they're the ones who take ownership of it, and it creates that bond, that family, that synergy that we need in order to make all this work."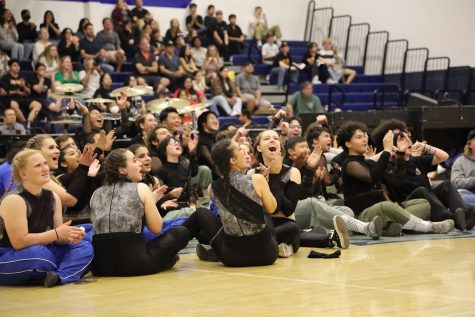 "I hope that the color guard team will continue to grow and gain [membership]," said color guard member Vivian Tsai. "I hope that more people join and find joy in color guard."
Color guard and drumline combine unique choreography and musical skill to capture abstract ideas and put them into one awe-inspiring performance. While there are hopes for these programs to continue to grow, this is only just the beginning.
Leave a Comment
Donate to The Griffin Gazette
Your donation will support the student journalists of Los Alamitos High School. Your contribution will allow us to purchase equipment and cover our annual website hosting costs.
About the Contributor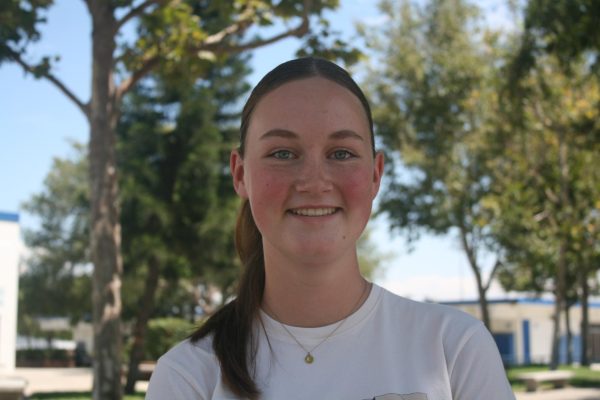 Katie Arnoult, Editor | Reporter
Katie Arnoult is a sophomore at Los Alamitos High School and an editor for the Griffin Gazette. She was the Editor-In-Chief for the McAuliffe Birdwatch...