Los Al's legendary lacrosse
Lacrosse is more than what meets the eye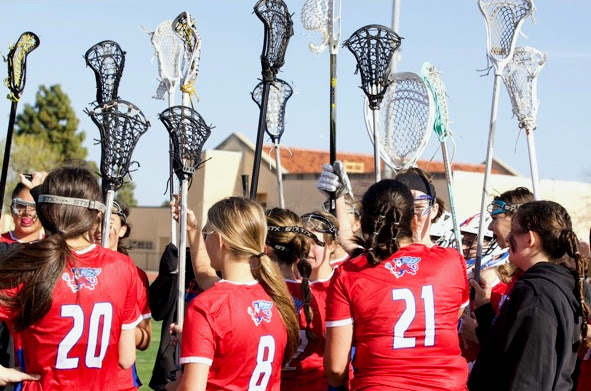 LOS ALAMITOS, CA — During the spring semester, the action-packed sport of lacrosse returns to Los Alamitos High School. Lacrosse is a game of precise maneuvers, physical endurance, and spirit. A mix of soccer, hockey, and baseball, lacrosse consists of two teams running back and forth across a field. Players are equipped with long sticks that have nets on the end to carry and toss a ball into a net. For boys' lacrosse, there are ten players on the field: three attackers three midfielders, three defenders, and one goalie. In girls' lacrosse, there are 12 players: four attackers, three midfielders, four defenders, and one goalie.
Los Al currently has JV and Varsity lacrosse teams for both girls and boys who wish to participate. What is interesting about lacrosse teams, however, is the difference in team uniforms and game rules. For example, in boys' lacrosse, players can wear helmets and "body checking," or shoulder-to-shoulder contact, is allowed. In girls' lacrosse, however, players wear protective goggles instead of helmets and are not permitted to body check. Additionally, there is a stick length and net pocket difference between the two teams.
"I think [the difference] is a good thing because I feel like it's a little bit safer in aspects," said Girls' Varsity coach Gabby Fukumura. "Boys' lacrosse is a very high-contact sport, just like football, so it is good to have a different version of that for girls… I love the finesse and the smarts that you have to use to play rather than the brute force of it."
Coach Gabby has been at Los Alamitos High School as a head coach for two years. One of her favorite parts about coaching is being able to teach new lacrosse players and help more experienced students hone their skills.
"
I like both parts of the teaching and the competitive spirit of it. You get to see people grow a lot in the sport… the girls love to compete, and I love seeing that.
— Coach Gabby Fukumura
When working with her students, Coach Gabby always emphasizes the balance between having fun and being serious about the game. She loves it when her students have fun, but she also wants them to stay focused on what is important. Whether it is joking around, winning a game, or learning life lessons, Coach Gabby says that it is all part of the lacrosse experience.
Kyla Brannon, a freshman on the girls' JV team, said that she first became interested in joining lacrosse when she saw videos of it online. She was interested in a sport that involved running because she originally did cross country earlier in the year. Brannon added that the lacrosse team was easy to join and that she was immediately welcomed. Now, she plays as a goalie on her team.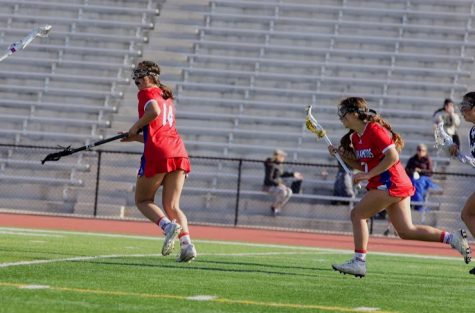 Brannon explained that, before she joined her lacrosse team, she did not feel as comfortable talking to others, but after many months of bonding with her team, she has grown more confident and formed valuable friendships.
"Being on a team, I've noticed that I've started to talk more," she said. "I'm finding out how to better communicate with people and manage stress, too. I found that really helpful."
Jamisen Penick, a junior on the girls' Varsity team as a mid-field attacker, has been playing lacrosse since fourth grade. She played on club teams in middle school and was able to continue her passion for lacrosse in high school. Over the years, she has found a core group of friends, adding that lacrosse gives her something to do after school and is a way that she can focus all her energy on something she loves.
"I love the competitiveness of it and being with a team and being with people," Penick said. She shared that many of the people on her team now also played with her when they were younger, so she has been able to grow up with the same group of people as their lacrosse journey continues. "We're still playing together today, which is really great… We're really good at holding each other accountable and being honest… I appreciate that, and I appreciate the honesty and the loyalty that we have for each other on our team."
Penick explained that, in lacrosse, keeping a healthy diet and staying fit 24/7 is crucial. Most of the exercises that the team does involve using the calves and knees, as well as practicing catching and tossing. But most importantly, having the right mental mindset is key to a successful game.
"It's a lot harder than it looks, but I think because we're women, we make it look easy," she said. "It's a lot more of a mental sport than you think it is… In lacrosse, if you tell yourself you can't do it, you will absolutely never do it. If you're doubting yourself and especially doubting your team, it just won't work out."
It can be frustrating at times, Penick admitted, not being able to be too aggressive during a game, due to the obvious differences between girls' and boys' lacrosse. However, she believes that strategy is more important than brute force, and loves the fact that the differences help to add more of a feminine power aspect to lacrosse.
"We definitely have a better strategy than the boys and definitely think things through better than they do," she said.
While lacrosse may have its differences among teams, its competitiveness on the field lives in the heart of every player. Los Al has allowed students to pursue a passion for a sport that involves both great physical strength and sharp mental ability, all while forming lasting friendships and unforgettable experiences.