Billy Joel and Stevie Nicks kick off their 'Two Icons, One Night' Tour
Music legends Billy Joel and Stevie Nicks began their tour together, which will continue across America throughout 2023.
LOS ALAMITOS, CA — On Friday, March 10, Billy Joel and Stevie Nicks kicked off their "Two Icons, One Night" Tour, which will continue for the rest of the year. They performed at So-Fi stadium in Inglewood, California, south of Los Angeles. Several thousand concert-goers drove through pouring rain and walked in carrying umbrellas and sporting rain boots. 
Both icons, who both gained their popularity in the 1970s, have never shared the stage before. Nevertheless, each artist gave their own electrifying nearly 2-hour long sets, which caused both critics and fans to revel in how amazing the two sound, despite both being in their 70s.
There were no opening acts. Stevie Nicks opened the night with an exciting performance of "Outside the Rain," which transitioned right into her massive Fleetwood Mac hit "Dreams." The lyrics of both songs paired nicely with the rainy weather which, thankfully, did not reach the audience due to the roof of the So-Fi Stadium.
"Los Angeles, my hometown," Nicks said after her first couple songs. "The rain will be with us tonight, but we're going to move quickly and have as much fun as we can." 
She played several of her greatest hits from both Fleetwood Mac and her repertoire of solo work, including "Stand Back," "If Anyone Falls," "Gypsy," "Fall From Grace," "Sara," "For What It's Worth" (a Buffalo Springfield cover), "Rhiannon," and much more. The full set list can be found here. 
When she got to "Stop Draggin' My Heart Around," which she originally recorded as a collaboration with Tom Petty and the Heartbreakers, Billy Joel came out from behind the stage and surprised her by delivering a superb performance of the rock classic.
"He snuck right up on me," Nicks said in surprise.
Unfortunately, that was the only performance of her set with Billy. 
The most emotionally charged performances of the night were her two tributes. She first paid tribute to Tom Petty, who frequently collaborated with her and inspired the straight-forward rock of her solo albums, by singing his signature "Free Fallin'" while several pictures of him and Stevie together flashed across the screens.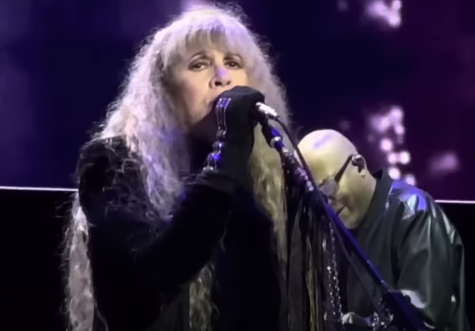 The second tribute she closed her performance with was to her former Fleetwood Mac band member Christine McVie, who passed away in November of 2022. It was the first performance for Stevie since her best friend passed, and she delivered a fantastic performance of the 1975 hit "Landslide" while pictures of the two were displayed across the screen behind her. The audience sang along to every word while the stadium was illuminated with hundreds of cell phone flashlights swaying to the rhythm.
"There's not much to say, so—" Stevie said after finishing the song, her eyes glistening with tears. "We just pretend that she's still here. That's how I'm trying to deal with it." 
Stevie turned around, embraced her bandmates, and then bowed to the cheering crowd. She blew kisses to the audience as she walked off stage. 
A brief intermission followed before Billy Joel and his band took the stage. The seventy-three-year-old rock legend took the stage by playing "Ode to Joy" by Beethoven as an intro to his 1978 hit "My Life" from the album 52nd Street, which won Album of the Year. 
He continued his concert by playing several of his best hits, such as "Movin' Out," "Vienna," "Allentown," "Just the Way You Are," "The River of Dreams," "Only the Good Die Young," and much more; the set list can be found here.
He also played a myriad of his lesser-known songs.
"These were called album tracks," Joel explained to the crowd.
Some of these include "Zanzibar," which made a resurgence on TikTok a few years ago, "Say Goodbye to Hollywood," "Sometimes a Fantasy," and "And So It Goes," for which Stevie Nicks came out and sang with him. 
He closed the night with the most successful of his songs "Piano Man," which prompted the audience to sing along while swaying flashlights. He continued in the encore with "We Didn't Start the Fire," "Uptown Girl," "It's Still Rock and Roll to Me," "Big Shot," and finally finished the night with "You May Be Right."
Overall, both musical legends gave stunning performances that audiences were delighted to see. The most talked about moment of the night was "Landslide" dedicated to Christine McVie, which garnered a lot of attention from the music world. The two icons perform together again in Arlington, Texas on April 8.