Engaging electives to add to your 2023-2024 schedule
Some great electives for all students to enroll in!
LOS ALAMITOS, CA – Registration for the 2023-2024 school year began March 1. Although many students' schedules are swamped by academic courses, several have open spots that can be filled by electives. Los Alamitos High School hosts a variety of different elective courses, each with their own unique curriculum. Here are just a few of the incredible elective courses offered on campus.
Ethnic Studies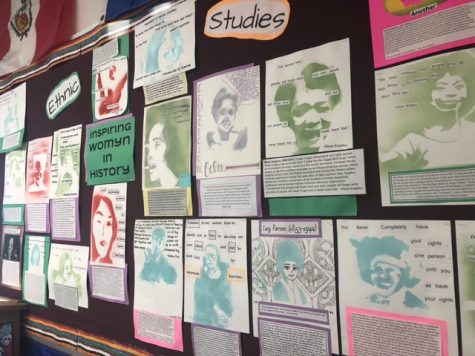 Ethnic Studies is a year-long course taught by Ms. Aviña. The class emphasizes the importance of cultural literacy as well as community building. Students learn more about unknown and hidden parts of history that allow them to make connections to the more well-known history they learn in their other courses.
"It's really a class that moves you and opens your eyes because for a lot of students, it's connecting the dots in things that have been missing," Ms. Aviña said. "A lot of them feel represented and seen in that history."
Ethnic Studies is a great course for students who are interested in educating themselves about different cultures, whether it be their own or ones they don't know much about. Students who are part of ethnic minority groups are able to explore parts of themselves that they weren't taught previously, and students who aren't part of ethnic minorities gain empathy and a better understanding of their peers. The class also forms bonds between different people and provides a safe, immersive space for students to express themselves.
"It exposes people to a side of society that otherwise doesn't get shown often in school," said former Ethnic Studies student and current Ethnic Studies club president Jonas Corliss. "It also provides a safe space and community for everyone that is a part of the program."
For more information on Los Al's Ethnic Studies course, visit the Griffin Gazette's in depth coverage on the class in the article "Class Spotlight: Ethnic Studies." For questions about Ethnic Studies, contact [email protected].
Journalism
After an incredible revival in the 2022-2023 school year, Los Al's school newspaper soared to success. The paper is entirely run by students in the journalism elective class. 
"Journalism offers opportunities for students to explore a wide range of topics and interests and to develop density in their writing and interview skills," Mrs. Franzen, the journalism teacher, said.
In addition to writing, editing, and publishing, the "Griffin Gazette" students have also formed a strong bond with each other and Mrs. Franzen. Although a large portion of their class period is occupied by working on articles, the students also take time to relax and talk to each other after a busy school day. Journalism students also enjoy improving their journalism and communication abilities through the class.
"It expands your writing skills, and it helps you get out of your comfort zone because you have to interview people," Isabella Gasper, a sophomore in journalism, said.
For more information on Los Al's journalism course, visit the Griffin Gazette's in depth coverage on the class in the article "The amazing revival of the Griffin Gazette." For questions about the Los Al journalism program, contact [email protected]. 
Vocal Production
Although Los Al is known for its nationally ranked choir, one of the lesser known musical electives is Vocal Production. Vocal Production is a class in which students produce and record their own music in a recording studio. In vocal production, students learn about sound recording as well as creating original compositions. It's a great class for budding singers and songwriters as well as those interested in creating their own music.
"Vocal Production (VP) offers students the opportunity to receive small group or private instruction to develop vocal performance skills," the Vocal Production class says on the Los Al choir website.
Specifically, students use Garageband to create their own songs. Students perform their own songs, cover songs, and duet together in class. The class also hosts two shows every year where they showcase what they've produced and learned. Although many of the students who take vocal production are part of the Los Al choir, anyone can take the class.
"I would recommend Vocal Production to others because it's a great way to show your passions through music!" Darcy Langdale, a freshman vocal production student, said. "Plus, it's a really small class with kind people!"
For questions about Los Al Vocal Production, contact [email protected]. 
Criminal Law
For fans of crime shows such as "Law and Order" or "Criminal Minds," Criminal Law is a fantastic course. Criminal Law is a semester-long course open to all students that is offered during both fall and spring. In Criminal Law, students learn about the legal rights of students, the origins of the United States legal system, courtroom drama, and more.
"One should study Criminal Law because it's important to understand your rights within our legal system to navigate life successfully," said the Criminal Law teacher Mrs. Hinz-Smith. "And who doesn't love a great true crime documentary or episode of 'Law & Order' from time to time?"
The course includes engaging projects, and most homework assignments are completed during class. It's also a great place for students to collaborate in open and intriguing discussions about law and crime.
For questions about Los Al Criminal Law, contact [email protected]. 
Printmaking and 3-D Design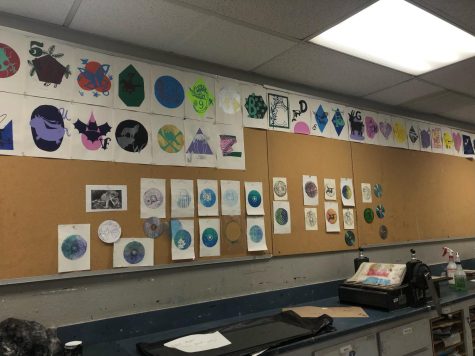 Some of the lesser known art classes on campus are Printmaking and 3-D Design. Both classes are taught by Mrs. Karissa Ferrell.
In Printmaking, students learn different printing techniques and skills. As opposed to drawing and paper where art is done on paper and canvasses, students in Printmaking develop their images on a plate. Plates are devices that students can use with a printing press in order to transfer their designs onto multiple other surfaces such as paper and T-shirts.
"I try to teach traditional methods but also some experimental techniques, so they can try things they haven't necessarily done before," Mrs. Ferrell said. "Most students don't have access to these materials at home… so it's another avenue for students to express themselves."
In 3-D Design, students work with different materials to create three dimensional artwork. Students created art from wire, metal, and more through different techniques such as carving and casting. 3-D Design students also create different pieces of jewelry. Some of this jewelry was available to purchase during an art sale that occurred during first semester.
"It's a good introduction to the more technical side of jewelry making," Mrs. Ferrell said. "They really get a hands on experience with a lot of different machinery."
For questions about Los Al Printmaking and 3-D Design, contact [email protected]
Sociology
A great semester long course for students who want to learn more about human interactions is sociology. Often taken in tandem with psychology, sociology focuses on the study of culture and social structure.
At its core, sociology is the study of human societies and social behavior. Sociology students examine how societies have evolved over time and tackle the dynamic changes of social institutions and social inequality.
"Sociology allows us to gain a new perspective on, or view of, ourselves and the world around us," said Los Al's sociology teacher Mr. Anderson. "It is a great elective to take and is especially beneficial if taken in tandem with Psychology because both semester classes offer an interesting view on yourself and the society around you."
For questions about Los Al sociology, contact [email protected]
Conclusion
Whether you're a budding musician, a future forensic scientist, or even just a curious student looking for an interesting class, there's an elective for everyone at Los Al. As you add to your 2023-2024 school year schedule, be sure to consider some of these amazing electives!