Los Al Marching Band aims for WBA Grand Championships
After placing fifth at Regionals on Saturday, Marching Band heads to the Class Championships, hoping to qualify for the Grand Championships
LOS ALAMITOS, CA — On Saturday, Nov. 12, Los Alamitos High School Marching Band attended Tournament in the Hills, the WBA (Western Band Association) Regional Championships. At the competition, which took place at Trabuco Hills High School in Mission Viejo, Los Al Marching Band placed fifth out of eight bands. 
WBA includes high school marching bands from California, Arizona, Nevada, and Washington. Because Los Al Marching Band lost members, they currently fit in WBA Class 2A, ensemble groups with 46 to 65 members. However, they are competing in Class 3A, groups with 66 to 85 members, the division they registered in at the start of the competition season.
"The higher the division, the more competitive because usually bigger bands have higher scores," senior Margaret Galvez said. "It's a big difference now that we are competing with bands with [about] 20 more people than us, but we are still pushing through." Galvez plays the piccolo and is the Woodwind Captain of Los Al Marching Band. As Woodwind Captain, she leads rehearsals, helps her section work together on rhythm and technique, and teaches younger students. 
"We still are 100% capable of getting top three at Championships, we just need to keep pushing until it's finally over," senior Young Dokgo, Drum Major, said of Marching Band competing in a larger division. Dokgo plays the clarinet, but as Drum Major, his job is to help run rehearsals, organize leadership meetings, and keep everyone motivated.  
At Regionals on Saturday, Los Al Marching Band placed fifth out of eight other high school bands with a score of 80.4.
"It was a good run as a group, but I feel like we could've placed better with a few minor adjustments," said Marching Band member Heema Pal, junior, who plays the clarinet. "Our timing was off at the very beginning of the show and it minimized the impact we could've had at the start." Pal also mentioned that many band members got sick and couldn't attend Regionals, which may have brought down their scores.
"Even though it's not what we were expecting, we are still proud and know we can do better next week!" Galvez said. Judges take the average score of each band in musical, visual, and auxiliary categories, and the total is out of 100 points. They judge musical technique, how the band sounds; marching technique and choreography; and Color Guard to see if the band can effectively portray their show concept with each performance aspect.
Los Al Marching Band's theme this year is "CarnEvil."
"It's supposed to be what happens at night at a carnival," Dokgo explained. Marching Band wears their uniforms, but Los Al Color Guard wore clown-inspired, black-and-white-striped costumes to reflect the "CarnEvil" show concept.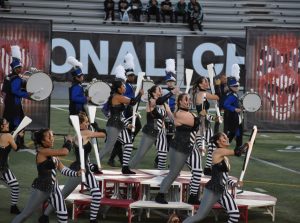 Marching Band uses the same set throughout the competition season, but they add movements to improve their performance as they progress. Galvez said that they sometimes add elements to their show until the day before the competition. 
All bands qualify for Regionals, but prior competitions allow bands to see how they measure up to their competitors. Los Al Marching Band heads to the Class Championships at Chaffey High School in Ontario this Saturday, Nov. 19. Only the bands that place in the top five in their division will qualify for the Grand Championships on Nov. 20, also at Chaffey. In 2019, Los Al Marching Band placed third in the Grand Championships. 
"If we practice properly this week, I feel confident that we should qualify. We have [a] good structure and a cool show concept, so I hope we do well," Pal said. 
The Grand Championships are the last major performance of the Marching Band's season. They will perform at the Seal Beach Parade later in the year. As seniors who have been in the Marching Band all four years of high school, Dokgo and Galvez said they feel nervous and sad going into their last competition with Los Al Marching Band. The seniors who have been part of the Marching Band their whole high school careers share a close connection from the hours of rehearsals during the week and the all-day competitions.
"I really want this to be the best year because I think this year, we have the most potential," Dokgo said. "But I think it's more pressure on me because [as Drum Major] I have to be the one [who] pushes [us] to become that."
"I think I'll be leaving [Marching Band] in good hands," Galvez said. "There are some really good people who have leadership qualities and are passionate about the band."
Marching Band's send-off performance is this Wednesday, Nov. 16. They will showcase their whole "CarnEvil" set at 7 p.m. at Los Al. Griffins can come out to support Marching Band and wish them luck as they prepare for the Class and Grand Championships.