Arron Myers: Multi-talented hip hop prodigy
Breaking the stage with a show stopping performance, many are wondering who this student really is
LOS ALAMITOS, CA — Performing at the homecoming assembly here at Los Alamitos High School, a student impressed the crowd with an astonishing hip-hop performance to the song DNA by Kendrick Lamar.
With a great start to his freshman year, Arron Myers is eager for the potential that lies ahead. Having danced for the majority of his life, Arron is currently part of a well-known dance studio called The Lab Studios. Reaching almost his fifth year at this studio, Arron has been exposed to a variety of styles. From krumping, popping, whacking, and hip hop, to contemporary and ballet at a younger age, Arron Myers is still a versatile dancer.  
"About three to four hours a day," he responded upon being asked how long he spends his days singing and dancing.
After explaining how he hired a choreographer for the DNA performance at the homecoming assembly, Arron Myers discussed his work ethic.
"I discipline myself, which helps me be able to become better… you kind of train your mindset," Myers said.
He has pursued opportunities such as performing at the Rams' halftime show in December of last year and the Dallas Mavericks' halftime show in Texas. He even premiered in a BTS member named J-hope's music video 'Chicken Noodle Soup.'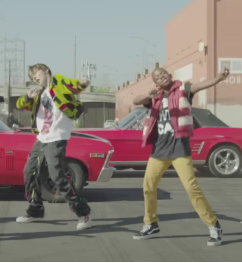 Arron mainly expects to improve his leadership and his vocal strength as a member of the Los Alamitos Show Choir. Myers is the dance captain for the men's show choir, Xtreme; he finds this responsibility particularly fulfilling, as he plans to become a choreographer. Myers disclosed some of his experiences leading dances: 
"What helps is just knowing what [I'm] teaching and…spreading what [I] know to everyone else," Myers said. Myers thinks precise and clear communication is vital in the teaching process. In addition to serving as the first-ever freshman dance captain for Xtreme, Myers is an integral dancer for the advanced mixed choir, Sound FX, which has after-school practice for two to three hours on Tuesdays and Thursdays.
"He has this natural ability to feel rhythm and express his movement through dance that is unlike any other student I have worked with before," commented David Moellenkamp, director of choral activities. Moellenkamp posits that Myers is an incredibly hard worker, as he has been working with professional dance coaches and studying the art of dance ever since he was little. Moellenkamp notes how Myers is very patient with his teaching and that his teaching style allows students to better understand body rhythms by slowly breaking down movements. According to Moellenkamp, Myers garners high esteem from his classmates for his prowess in dancing.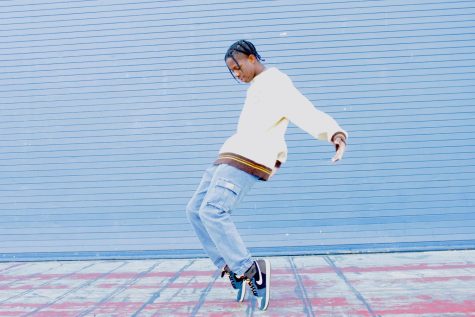 Myers previously participated in choir in elementary school; he was a part of the Mayfair Middle School men's choir.
"I really enjoy singing in harmony…dancing and singing help me build core strength…stamina, and cardio," Myers said.
Along with his career as a singer and dancer, Arron Myers is interested in the possibility of creating music in the future. Myers also dabbles in guitar and piano.
Myers remains open to future opportunities to display his skills at school assemblies; he can be contacted at [email protected].