LOS ALAMITOS, CA — Packed with students, the Los Alamitos High School gym echoed with the cheers and groans of the crowd as the girls varsity volleyball team faced off against a lineup of Los Al teachers. The match took place during lunch on Monday, Sept. 18 and ended with an exciting student victory. 
"I wanted to congratulate the girls varsity team for a great match and on the win! Shout-out [to] my teacher teammates for getting out there and putting our best effort into the game," Mr. Brown, Los Al's film teacher, said.
With skill and teamwork on both sides, the competition was fierce; throughout the game, the score shifted between the teachers and students. ASB member Jocelyn Vlasic commentated the match, which was organized by ASB, girls volleyball coach Mr. Huber, and Mrs. Brodt. 
Mr. Brown, Mrs. Brodt, Coach Bowe, Coach Kelly, Mrs. Cowan, Mr. Fenton, Mr. Hong, Mr. Hyepock, Mrs. March, Mr. Whitcomb, and Mr. Lee represented Los Al staff. Some of the teachers played volleyball at a collegiate level, like Mrs. Cowan, who played volleyball at High Point University in North Carolina. 
Story continues below advertisement
Girls varsity volleyball, made up of seasoned veterans and newcomers, has entered their season strong. In August, they placed third at the Ann Kang Invitational Volleyball Tournament in Honolulu, an annual pre-season tournament for the top girls varsity teams from high schools across the country. 
At Monday's match, teachers and administration, including Ms. Troutman, Mrs. Weber, and Mrs. Vienna, cheered on their coworkers from the sidelines. Students took up almost every seat in the bleachers, with more spilling in through the doors. 
Before the match, members of girls volleyball ran through setting drills to warm up and, it seemed, intimate their opponents. However, the teachers started the game with a solid serve by Coach Bowe, a beloved football coach and substitute teacher on campus. The gym rang with shouts and applause for him.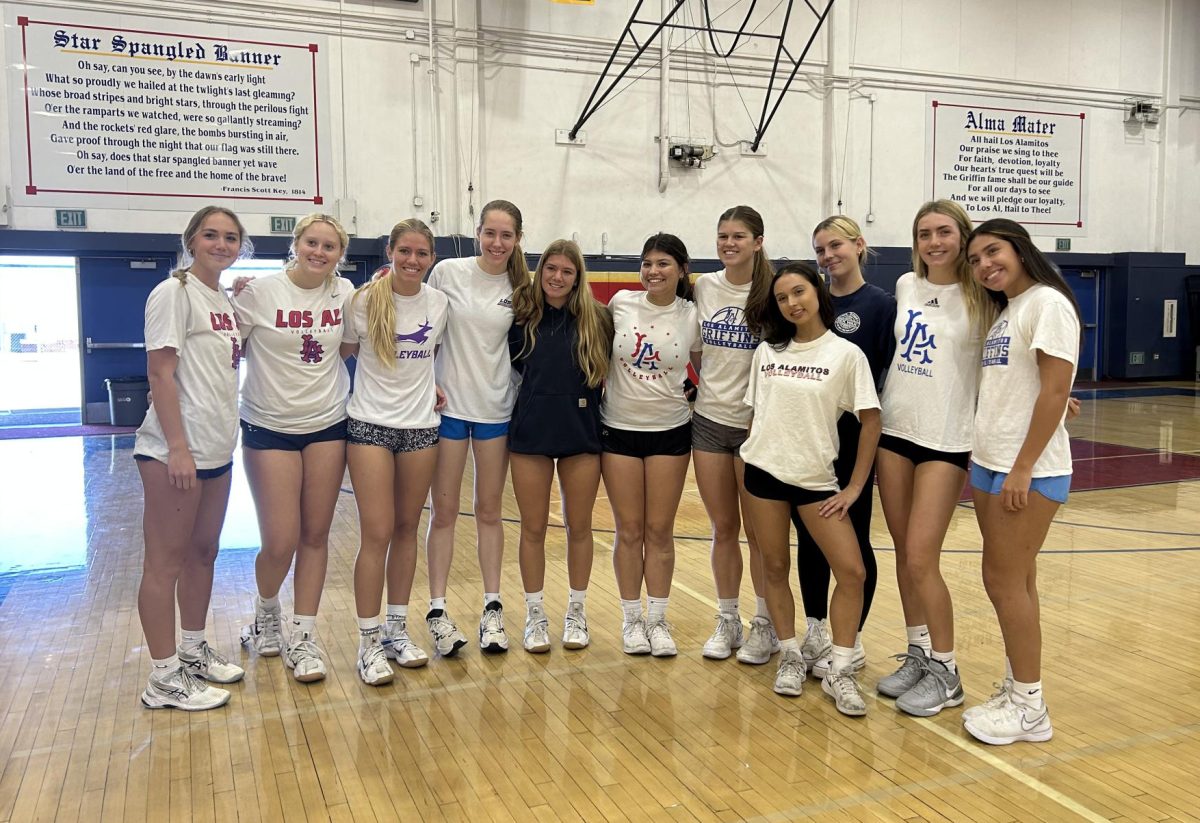 But the student team made a quick comeback, tying up the score at 3-3 with tricky hits to the teachers' defense. 
"Our varsity girls are no joke!" Mr. Brown wrote in an email. "It felt impossible to score on them at times. You could tell they had a very strong chemistry and communication. Hats off to them, they really showcased what it means to play as a team."
Mr. Brown, Mr. Lee, and Mr. Hong took some hard falls attempting to block girls varsity's attacks. 
"[Mr. Hong] was putting his body on the line play after play to help his team. That's dedication!" Mr. Brown said. Mid-game, Mr. Hong made a spectacular dive for the ball, landing hard and injuring his knee. 
"I'm sure I'm going to be feeling it tomorrow. A little shaky right now," Mr. Hong said after subbing out. 
Mr. Whitcomb also showed up for the teachers, taking the middle blocker position for his team and executing multiple impressive blocks and spikes. The score went back and forth until finally tying up again at 10-10. Despite the teachers' valiant efforts, the girls varsity team won the game with a final score of 14-10. 
"I'm not sad because I tried my best," Mr. Hong said.
"[I'm] pissed off," Coach Kelly said humorously.
"We didn't lose… we just ran out of time. A comeback was on its way," Mrs. Cowan wrote in an email. 
"
I never realized just how difficult playing volleyball is. I have a crazy amount of respect for our varsity team and what they have to do to play every week! When that ball is headed to your face at 100 mph, it's hard not to freeze!"
— Mr. Brown
Girls varsity players Nalani Childers, Elon Milroy, and Valerie Cardenas agreed that Mr. Whitcomb was their biggest competition in this match. Mr. Hong, Coach Kelly, and Mrs. Cowan also named Mr. Whitcomb as the teachers' MVP. 
"While Whitcomb has earned other volleyball accolades, I am sure winning MVP of the game yesterday will go down as one of his greatest achievements," Mrs. Cowan said. "He brought fire, enthusiasm, and experience."
"Whitcomb was a stone wall of defense, and Hyepock had some nasty offense," Mr. Brown said. "But Mrs. Brodt, Mrs. Kelly, and Mrs. Cowan really carried the whole team!"
Ryan Kephart, a sophomore spectator, was rooting for the teachers. He said that he thought Coach Kelly was the teacher team's MVP, as she coaches Los Al's boys varsity volleyball team. 
After the match, Coach Kelly jokingly called out her teammates for their subpar volleyball skills.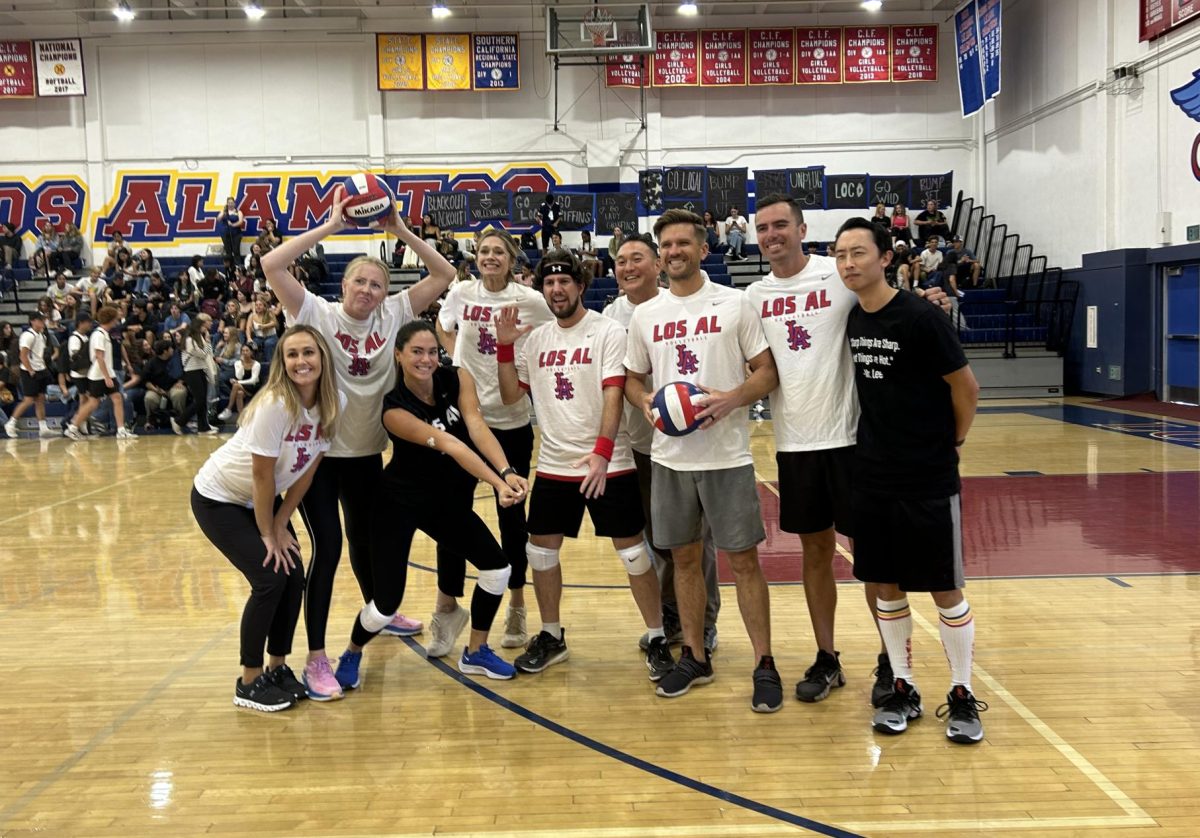 "I think they could have tried a lot harder," she teased. "They could have stuck their platforms when they were passing. They don't know anything about volleyball. They have no fundamentals, and I'm tired of it!"
"I feel like they may own the classroom, but we own everything else," Milroy, the student team's libero, said. 
"[Feeling] great; we just took that dub [win]," Childers, middle blocker, said post-game.
This event may be the first of many more teachers vs. varsity team games this year, according to Mr. Brown.
"All I'm saying is, put me on the football field, and I am locking down any receiver who lines up against me," he said.
"We had a great time helping the girls prep for their big game this week and showing school spirit," Mrs. Cowan said. "You defeated a great team today, and hopefully you can continue with this momentum."
Childers and her teammates said they were feeling "pumped up" for their game on Tuesday against Edison High School. The dress-up theme for Los Al was to wear all black.
"
As the great Coach Huber once said, 'Go, fight, win… go Griffins.'"
— Mrs. Cowan
"I'm really excited," said Cardenas, setter.
"Black out the Chargers!" Milroy said. 
The teacher vs. students volleyball game hyped up Los Al's support for the girls volleyball team and kicked off the week with a spirited campus event. Los Al girls varsity volleyball continued their winning streak by beating Edison 3-0 at yesterday's match. Catch their next game, this Thursday, Sept. 21 against the Newport Harbor High School Sailors at 5:45 p.m. in Newport Beach.