LOS ALAMITOS, CA — This spring break, 35 students will go on an exciting trip to Spain and France as part of Los Alamitos High School's annual Europe trip. The "Mediterranean Magic: French Riviera and Barcelona" trip will be a whirlwind of adventures as they immerse themselves in European culture. Although this excursion is not counted as a "school trip" as it doesn't cut into class time, it will be led by Los Al teachers Mrs. Franzen, Ms. Kibtya, and Ms. Whitfield.
The trip's jam-packed itinerary begins when the group lands in the Italian city, Nice. The first day includes an exhilarating evening walk-about, a stop at the Sainte Reparate Cathedral, and exploring the Place-Massena.
Over the next few days, students will have many amazing opportunities, including traveling to Monaco by train, visiting the Cathedrale de Monaco on the way to the Prince's Palace of Monaco, window shopping in the most well-known luxurious shops in the world, and, finally, heading to the Jardin Exotique for an underground cave tour and the Oceanographic Museum of Monaco.
After many more exciting adventures, they'll have a chance to participate in an art workshop led by a local artist, explore an old town, and hike a coastal trail. Students will even get the chance to step foot into the Musee International de la Perfumerie to enter the world of master perfumers and make their own signature scents. The portion of the trip taking place in France ends with a visit to the Dali Theater-Museum. 
Story continues below advertisement
The last leg of the trip will take place in Barcelona, where students will have opportunities to explore the historic Gothic Quarter and other areas of the city with stops such as the Picasso Museum, the bustling La Boqueria market, fantastical Parc Guell, and the architecturally stunning Casa Batlo. Students will wrap up their exciting vacation with a cooking class to make paella before boarding a plane back to Los Angeles the next morning.
This year, the trip has a new twist: It has been entirely planned and executed by Mrs.  Franzen, who teaches AP Literature, Journalism, and Modern Lit at Los Al. Mrs. Franzen decided that she needed to have a heavier hand in the design of the trip after realizing that the substantial amount of the money being paid to travel companies would go to several levels of management, not back into the trip. 
"I want to offer kids the best price, and I want all the money that comes in that they paid to go back to them," Mrs. Franzen said. "I'm not looking for the cheapest way to do things [in order] to make more money because my goal is not to make money. My goal is to give the kids the best experience possible."
As a result, Mrs. Franzen founded a non-profit called Explore More Adventures and designed the trip herself. As an added bonus to make sure students get the most value for their money, Mrs. Franzen has been able to add new stops to the itinerary that previous travel guides had neglected.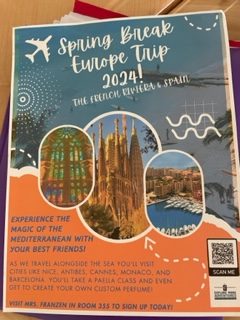 "I always wondered before when we were in Barcelona, why… we [don't] go into the Gaudi houses. You drive by them and [the tour guides] point them out to you, but we never went in one ever, and I'm taking kids inside," Mrs. Franzen said.
Even though homesickness was common for many of the students during previous trips, they were all aligned in their ability to overcome it in favor of excitement over their new experiences. For instance, senior Lynna Kim, who went on last year's trip, mentioned that she really missed her mom's Korean cooking while she was away but really enjoyed experiencing all the amazing architecture.
These annual trips are known for the bonds they inspire in students. As a result, past trips have even resulted in marriages! Last year's trip inspired students to bond over a breathtaking experience where they hiked through the Swiss Alps during a snowstorm. 
"It's the relationships that come out of it… [It's being able to say] we hiked in the Alps together," Mrs. Franzen said. "It's an outgrowth of these crazy experiences that we have, and I think that's really meaningful for kids."