LOS ALAMITOS, CA — Los Alamitos High School's drama program produced "Wolves," a realistic fiction depicting struggles that teens undergo daily, like peer pressure, exclusion, feeling invisible, and more. Performances were on Thursday, Aug. 24, and Friday, Aug. 25  in room 513.
"Wolves" is a play that captures the struggles and endeavors of a girl's soccer team. It represents teenage girls' hardships and troubles in a realistic view. The show takes place before and after several soccer games across a season. Each character has complex emotions personalized to their situation. The play mentions difficult subjects and struggles between each character's story arc, eventually intertwining with each other. It portrays anxiety, peer pressure, grief, expression, and conflict.
In the end, the fights the teammates have between each other don't stop them from being a team. Friendship can make a big difference during difficult circumstances, which the "Wolves" represents greatly. The team wins and loses games but also has issues outside of soccer. When the friends aren't arguing or goofing around, they support each other and watch each other's back.
Character growth during the team's ups and downs is shown with obstacles individual characters endure.
Story continues below advertisement
"That compassion for all your friends can also cause you to hate them sometimes, but at the end of the day you all still come together when you need each other," Alyssa Mathews, a freshman attending the play, said.
Hard emotions and conflicts are struggles between kids every day, and "Wolves" presents this all.
"I think that the play was very accurate to some of the complex emotions of teenagers," Mathews said.  "I think it showed many varying emotions that the students have presented."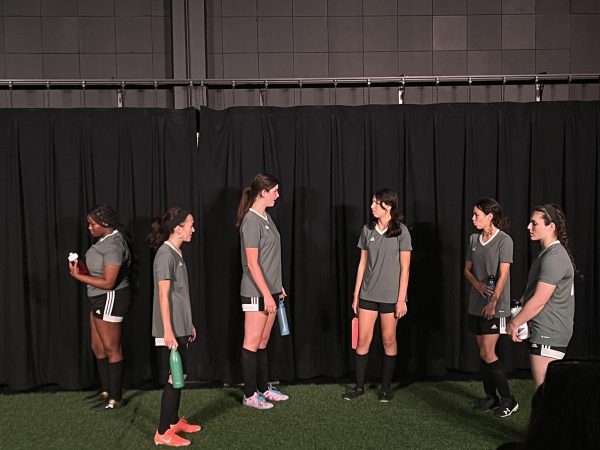 The show is mixed with many different messages, all leading back to a different conclusion. Friendship and support are important for anyone, especially when going through the situations presented in the play. The internal conflicts in the characters come out at different times, causing chaos.
"I think the message of this play is to show camaraderie of athletes and friendships," said Mrs. Vienna, Assistant Principal of Special Education, Counseling, and Technology. "When girls and teams come together, it's really about supporting one another. We look to each other when we have those best times, but we really rely on each other when we have the hardest and most difficult times."
The consistent friendship between the girls is what truly keeps them as a team. Each time the girls have a difficult situation, they're there for each other. When they aren't, they learn the repercussions of not supporting one another. This play brings a realistic perspectives of young girls and their everyday lives.
"There are so many different characters in this cast, and they're all very different and nuanced in their own ways," said Chloe Perz, a senior who's in their fourth year of drama, playing player 00. "It was very obvious, I'd like to think that my character, she's quieter, she struggles with something else than say the number [player] 7. They have two dynamics that make the show interesting and nuanced and feel human."
Each character having separate conversations made the show fascinating. The conversations later merge with each other while others die down.
"We're all talking over each other. We're all having different conversations," Perz said. "We're talking about real things or we're talking about stupid things. When I'm in the corner freaking out, everyone else is talking about stupid things or interesting things or things they relate to."
This play is about so many things that factor into the main message of the show. By the end of the show, there had been lots of relatable content. Depending on where you sit, you could even see a different perspective by their emotions and actions, not just dialogue.
"
I feel it was very well depicted, and the teams showing their bond and their compassion for one another while also showing how they somehow fight but still love each other at the end of the day is amazing.
— Alyssa Mathews