Breaking down the community college stigma
Perspective from Los Al seniors, counselors, and an alumna on pros and cons of community college
LOS ALAMITOS, CA — As Los Alamitos High School seniors prepare to graduate, the stigma surrounding community college may affect their decisions about next fall. This stereotype can make students feel unaccomplished if they don't attend a university. 
Today's society has the notion that community colleges sit at the bottom of the college hierarchy, a back-up for students who didn't get into an Ivy League or UC. Many students feel discouraged from attending community college because of parents' expectations or peer pressure. In a Griffin Gazette survey, Los Al seniors gave their thoughts on the community college stigma. 
"When I share to my peers about attending a community [college], it feels like they are judging me," said Makayla Sterbentz, a Los Al senior attending Orange Coast College (OCC). "It makes me feel as though I wasn't smart or 'good enough' to go to a university. I feel that people assume you didn't do well in high school, or they think you're poor."
"It does get frustrating to constantly explain why I am choosing community [college], when it really is the better option financially," said Ollie Hebard, another senior attending OCC. "I think people assume that those who go to community [college] do it because it's their only option."
Affordability is a major benefit to community college, said Dr. Lewis, Los Al's college readiness counselor, and Mrs. Schaeffer, one of Los Al's college and career counselors. Average in-state tuition for California community colleges (CCCs) is $1,246 per year, compared to $13,752 for Universities of California (UCs) and $5,742 for California State Universities (CSUs), not including housing, books, or meals. 
"You add these totals up and you are looking at 30,000 reasons why community college is a great bet," Los Al counselor Mr. Riehm wrote in an email. Additionally, annual tuition for private CCCs averages $20,540, while private universities cost about $35,639. 
"I decided that it is not worth starting my life in debt and having that on my back throughout my life," said a Los Al senior attending Cypress College.
Qualifying students can attend CCCs for free through the California Promise program. Orange County community colleges also offer up to two years of free tuition to Los Al students. Mr. Riehm, who taught at Santiago Community College for 15 years, recommended filling out the Free Application for Federal Student Aid (FAFSA). 
Another pro of community college is the transfer admission guarantee (TAG). After two years at a CCC, students can apply and transfer to one of six participating UCs. Almost one-third of UC students transfer from California community colleges. Transferring from community college lets students save money on their general education requirements while they decide on a major.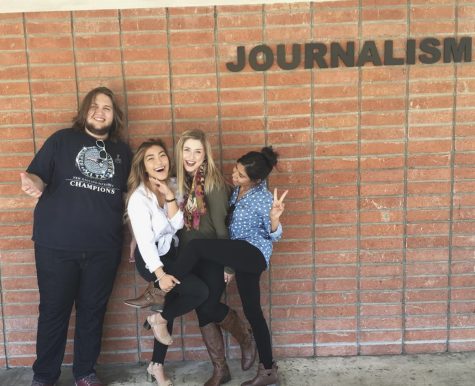 "I had two extra years to really hone in on what I wanted to do with my career," Mallory Sullivan, Los Al class of 2014, said. Sullivan attended OCC for two years before transferring to Chapman University to major in broadcast journalism. Now, at 26 years old, she is a news producer at Good Day L.A.
"I was able to get my bachelor's degree at a fraction of the cost, and once I transferred to Chapman I had every general education class out of the way and was able to dive deep into my major-related coursework," Sullivan said.
According to Mrs. Schaeffer, about one-third of Los Al students headed to college choose community college. Yet students hesitate to follow that path because others view it as inferior to the university path. 
"
When I told people I was going to OCC, their reaction was always 'that's okay!' and 'you'll save some money,' rather than the fanfare associated with committing to a four-year college.
— Mallory Sullivan
Dr. Lewis described the community college stigma as a misconception that she witnessed at every school site she's worked at. 
"I hear students and parents say that 'they worked too hard in high school to only go to community college,'" Dr. Lewis wrote in an email. "Because community colleges serve all students, some confuse this with serving as a catch-all for any student who 'couldn't cut it' in a so-called 'real' college." 
"I believe our society prizes things that are difficult to attain," Mrs. Schaeffer said over email. "Just because something is easily accessible doesn't mean it isn't worthwhile."
"The high school plastering everyone's colleges on the gym didn't help, along with the 'wear the college you committed to' dress-out days," Sullivan said. "When I proudly rep'd OCC it was almost a joke, but I owned it."
A common misconception about community colleges is that they exist for students who didn't do well in high school. But many students attend community college because it's a better option for them financially even though they were accepted into universities. However, community college does give students the opportunity to refocus on academics, so they can transfer to a university that might have been out of reach in high school. 
"I wasn't very academically motivated my freshman and sophomore year, so I really missed out on the coursework needed to qualify for a UC/Cal State," Sullivan said. "Community college allowed me the time to get serious about my grades before transferring to Chapman."
Another downside to community college for students is living at home. This is a pro for some students, but others want to move away from home to live in a dormitory for the "college experience" that universities offer.
"As one who went far away from home to attend college, I totally get this," Dr. Lewis said. "However, it is important for students to understand that there are still plenty of opportunities to get connected on a community college campus, like sports, student organizations, clubs, honors societies, etc."
"
The prestigious institutions have the corner market on fancy sweatshirts and big football programs. Too many are buying the $200,000 sweatshirt for the wrong reason.
— Mr. Riehm
Along with smaller class sizes, community college offers training for non-traditional, yet advantageous, fields of study. 
"The biggest secret and most lucrative path is looking at a trade," Mr. Riehm said. "This covers everything from fire science, to welding, plumbing, computer science, nursing, psychiatric technician, to radiology, to automotive." He added that students can start working in the field within a year.
"There has been a huge increase in demand for students in career technical education (CTE) and skilled trades, which is where community colleges really shine compared to their university counterparts," Dr. Lewis said. 
To increase their appeal to students, some community colleges are adding on-campus housing and removing "community" from their names. In 2022, Pikes Peak Community College, in Colorado, became Pikes Peak State College. 
OCC opened an on-campus housing complex in 2020. Last year, many other CCCs received state grants for housing, including Compton College, Fresno City College, and Napa Valley College. Cerritos College currently has plans to build affordable student housing but lacks state funding. 
The community college stigma is deeply rooted in our society, but to combat this, students should visit local community college campuses and learn about their programs. 
"Educators and parents can start shifting their language to reframe community college from a 'back-up option only' to a potentially desirable option," Dr. Lewis added.  
"I think it could really be stressed more from the get-go that community [college] is a great, viable option for everyone," Hebard said. One senior said meeting successful community college alumni, like Sullivan, could help with the stigma. Senior Jamisen Penick said to keep an open mind and focus on what you want when applying to college.
Mr. Riehm advised connecting with your counselor to plan early and taking a community college class while at Los Al. He also suggested taking math in the summer, which opens up classes with math prerequisites for college students to take come fall. 
"Know you are a Griffin," Mr. Riehm said. "Your valuable Los Al education and diploma means you are capable, resilient, resourceful, and motivated. Pursue your learning with purpose."
Los Al students struggle with college decisions due to the perception of "good" schools, and misjudgments about community college keep many from recognizing its merit. Students should choose a school based on their goals and interests, not the opinions of others.