A guide to senior end of the year activities
Everything you need to know about senior activities
LOS ALAMITOS, CA – Although the end of the year is a stressful and sometimes sad time for seniors, they also have a plethora of fun activities to fill their schedule.
Here is some information about all the upcoming senior events.
Senior Awards Night
Senior Awards Night will take place on Thursday, May 18 at 6 p.m. The ceremony is invited only and will take place in the Los Al PAC.
Prom
Prom will take place on Saturday, May 20 from 7:30 to 11:30 p.m. The night is reserved for juniors and seniors and will be located at Santa Anita Race Track. This year's prom theme is "Once Upon a Prom." Tickets can be purchased in the activities office. Prices are currently $120, but they will rise to $140 on May 19.
Cap and Gown Distribution
Cap and Gown Distribution will take place on May 22 and May 23 from lunch to 3:45 p.m. in room 500 (located next to the cafeteria). Students who pre-ordered their cap and gown will have the opportunity to pick them up, and those who have yet to buy them will be able to purchase them.
Senior Finals
Senior Finals are on Wednesday, May 31, and Thursday, June 1. Senior finals will be a regular bell schedule for everyone. All media center materials (textbooks, calculators, Chromebooks, etc.) are due by May 31.
Baccalaureate
Baccalaureate will take place on Thursday, June 1 at 6:30 p.m. on the Los Al John Barnes Field. All graduating seniors are invited and encouraged to attend. Baccalaureate is an event separate from graduation that is meant to serve as a more intimate event for graduating students. The event is shorter than graduation and will feature a few speakers.
Elementary School Visits
Elementary School Visits will take place on Friday, June 2 at 7:45 a.m. for all elementary schools except for Hopkinson, which will be at 8:45 a.m.. Seniors are encouraged to visit the elementary school they attended. Students who did not go to elementary school in the district are welcome to visit any of the elementary schools with a friend. To sign up for the elementary school visits, fill out this form.
Senior Car Parade/Family Festival
The Senior Car Parade and Family Festival will take place on Saturday, June 3. Parade vehicles will start lining up at 9:30 a.m., and the event will start moving at 11:00 AM. The parade will begin at the shops of Rossmoor on Seal Beach Blvd. and end at Rush Park around noon. Once seniors and families reach Rush Park, they will be able to attend the Family Festival, which will include food trucks, a DJ, a yearbook signing area, and more.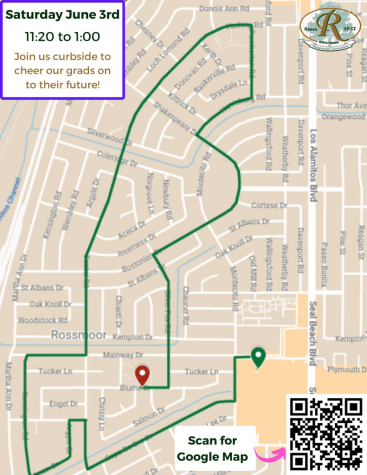 Senior yearbook signing
Senior yearbook signing will take place on Monday, June 5, time to be determined. The event will be a time for all seniors from Los Al to exchange and sign each other's yearbooks.
Graduation Rehearsal
Graduation Rehearsal will take place on Tuesday, June 6 in the PAC, time to be announced. This event is mandatory for all 2023 Los Al graduates.
Graduation
Graduation will take place on Tuesday, June 6 at 7 p.m. The event will happen at the Santa Ana Bowl. The address is 602 N. Flower St. Santa Ana, CA. There will be venue parking at $10 per vehicle, cash only. All graduates should wear their cap and gown to the event as well as any cords or medals they have collected throughout their time in high school.
Grad Nite
Grad Nite will take place at Disneyland and California Adventure, starting on Wednesday, June 7 at 2:30 p.m. and ending on Thursday, June 8 at 2:00 a.m. Students will be able to hop between the two Disney parks until 9:00 p.m. when they will be expected to all go to California Adventure for the rest of the night. All students are expected to arrive at school by 2:30 PM for check-in. Students will then be bussed to and from Disneyland. Students will not be allowed to enter the park unless they come from a Los Al bus. Students are encouraged to bring a small backpack with any daytime essentials. Students will be required to bring an ID/driver's license. For more information on Grad Nite, look at the Grad Nite info letter.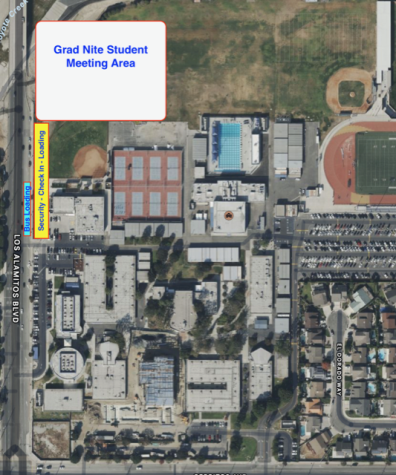 Congratulations to all of our 2023 Los Al graduates!