National Signing Day at Los Al
Over two dozen of our students signed to a college on this day
LOS ALAMITOS, CA — National Signing Day came to Los Alamitos High School on April 19th and many of Los Al students signed. National Signing Day is when students sign a binding National Letter of Intent (NLI) for a Division One or Two sport to a college under the NCAA (National Collegiate Athletic Association).
"The NLI is a binding agreement between a student-athlete and a college. When the student-athlete signs the NLI, they agree to attend the chosen college for one academic year in exchange for athletic financial aid" said the National College Scouting Association on their website.
The NLI makes a verbal commitment into a written one. It allows for students that excel at their sport to continue their journey in college.
Signing Day at Los Al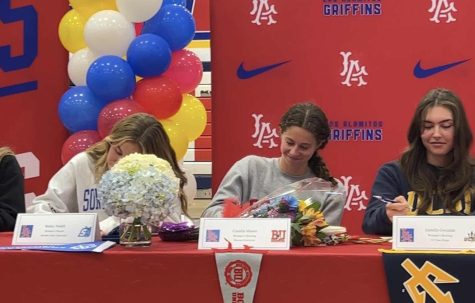 Los Alamitos High School has excellent student-athletes and athletic programs; many of the students have received opportunities to play in college sports.
"26 of our students have signed their NLI just recently and around 50 signed throughout the entire year," said Mr. Courtemarche, the athletics vice-principal.
We wish these students good luck in their time playing sports in college and hope that they enjoy all the opportunities and experiences that come with their hard work.