LosAl's College and Career Fair
Los Alamitos High School was joined by many different college and career representatives on Wednesday to inform the students about different paths in life.
LOS ALAMITOS, CA — On Wednesday, March 1, Los Alamitos High School held a College and Career Fair for the students. It was held from 4:30 to 8 p.m. in the school gym. It showcased everything from the fine arts to earning your doctorate.
Representatives from different schools and career paths were stationed at tables to show the students a little bit about what that path would be. Los Al established this fair last year to give students and families the chance to hear about different universities from across the country as well as to provide learning opportunities regarding various occupations.
The stations allowed the students to interact with props and explore more into that profession while asking questions or reading the pamphlets that they had readily available.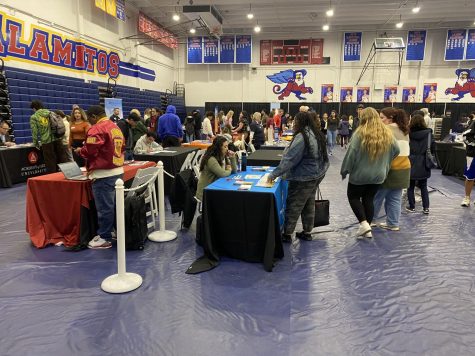 Students could ask the representatives questions about specific majors that the colleges offered or ask them about the college in general.
"I hope students realize how many different colleges are out there for them to choose from, not just the same 25 most popular schools that everyone applies to. I also hope that they see some interesting career options that are new and different," said Marianne Schaeffer, Los Al's College and Career Counselor.
There was a multitude of colleges at the fair including Cypress College, American Career College, the University of Alabama, Penn State, and The Academy of Art University.
Additionally, there were many career opportunities to check out such as Disney, Bolsa Chica Conservancy, First Responders, and the military. Students were able to learn about as many career and college paths as they wanted.
"Events like this are great for information purposes and for the students to make informed decisions," Sandra Villafan, a Community Outreach Director from West Coast University for American Career College, said. "I hope [the fair] empowers the high school students."
At 5 p.m., the school had a panel interview in Room 853 where students and parents could listen to specific people talk about their careers and how they got into those positions.
This year the three interviewees were Karla Vargas, the Regional Director of Operations at Hardage Hospitality, Stephanie Monsen, a preconstruction director at McCarthy Construction Co. Inc., and Karyn To, a Clinical Pharmacist Supervisor at Optumrx. They were interviewed by April Barnes, the President of Vital Link.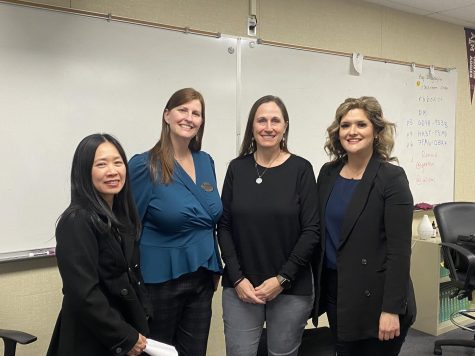 The panel spoke about how they got started in that career and what they look for now in new hires and employees.
The audience could ask them any questions about their career or what they wanted to know if they perhaps wanted to go into this field of work.
The women spoke about how it's okay if you are not sure what you want to do with your career yet because they found these jobs through exploring and trying new things throughout their life.
"You don't know yourself yet, how are you supposed to know what to do with your life?" Barnes said.
Hopefully the College and Career Fair helped students understand a little bit more about a certain direction that they want to pursue later in life.
"It is cool to learn about careers that you don't know about and it's good to get advice and information from the people actually working there," said Los Al sophomore Luna Cerrillo.
Thankfully it is very popular amongst high school and middle school parents and students. Last year the College and Career Fair had about 1100 people attend.