LOS ALAMITOS, CA —  Spotify and Apple Music are popular music-streaming apps that have been competing for years. Apple Music and Spotify's audiences have a considerable amount of contrasting viewpoints about each streaming app. They each have a lot to present with many selections of podcasts, audiobooks, and music. Both Spotify and Apple Music have many sources of entertainment and exciting features. The question is which one is better? Apple Music or Spotify?
Apple Music
Apple Music is music software that was developed by Apple Inc. in 2015 with over 88 million subscribers. The streaming service has over 100 million songs and 30,000 playlists, ad-free with a subscription. It offers playlists created by professionals that are made personalized for users.  
"I like the setup [of Apple Music] and how the playlists are arranged," said Emma Foden, a freshman. 
Story continues below advertisement
In the preparation stage of Apple Music, there were many controversies about the royalties payment policy, regarding the decision to not reimburse artists when listeners use the free trial. Even popular artist Taylor Swift said she would not publish her album, "1989," back in 2014 because of this policy. Apple Music did end up changing the policy and avoided any further criticism about this subject.
Apple Music also offers a paid subscription that allows users to listen offline. If users do not have a paid subscription, another option that the app provides is receiving full access to any music that is purchased or downloaded. 
Spotify
Spotify is a streaming service for music, podcasts, and audiobooks. It was first established in 2006 in Stockholm, Sweden by Daniel Ek. 
Spotify began its popularity in 2011 when the app announced its gain of 1 million subscribers. Today, Spotify has a total of 220 million subscribers and 305 million using Spotify's free-tier plan. Spotify has 100 million tracks available, providing a variety of choices for its users.
Spotify's free-tier plan, although great for those saving money, can be frustrating to people. Spotify users using the free-tier plan have ads, can't skip songs more than six times, and can't shuffle playlists, along with other restrictions. 
Spotify does offer a lot despite its disadvantages using the free tier. The platform offers an option of quality of volume, collaborative playlists, and recommendations on playlists and artists. 
Overall, Spotify is a favored app for numerous users and continues to be a popular choice for music.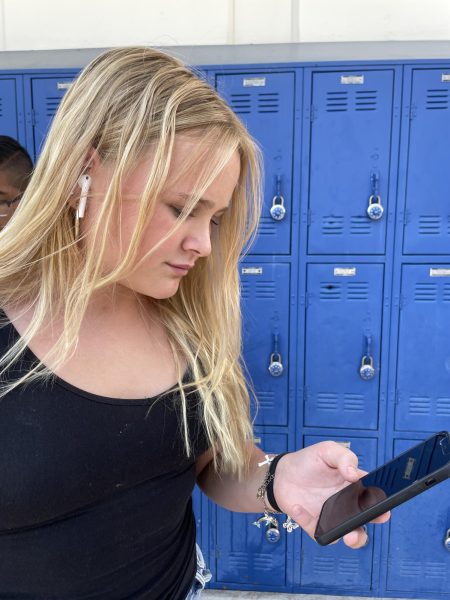 Apple Music & Spotify
Spotify and Apple Music are both similar apps offering their users music, audiobooks, and podcasts. They each have subscriptions, but they provide different features.
Spotify offers a premium subscription costing $10.99 a month with benefits. Without the premium subscription, you are able to get the free-tier plan without the benefits of premium. 
On the other hand, Apple Music's subscription grants access to 60 million songs, listening offline and online ad-free. Without this subscription, users can only listen to music from their library. The library consists of songs that are installed into your phone from other software. 
The most popular choice solely on subscription would be Spotify due to its free-tier plan. 
"
Spotify allows users to generate a plan individual to your needs for free. It helps me feel like Spotify knows how to cater to my needs.
— Alyssa Mathews, freshman
Spotify's free-tier plan allows non-paying users choices of listening to music with ads, without feeling required to pay for an add-free subscription. Users don't feel pressured to spend money, so they feel comfortable using Spotify over Apple Music.
Spotify and Apple both give out royalties to artists, but each pays them different amounts. Although Spotify is a high-paid app, it only gives their artists 0.0033 per stream. 
"That's not fair to the artist," said Elena Predolin, a freshman. "The artist deserves more. They put their time, effort, and money into that music. They deserve better."  
Apple Music, meanwhile, pays artists at 1 cent per stream. This means that Apple Music compensates artists at a higher salary than Spotify. 
According to the Spotify vs Apple Music poll on the Griffin Gazette, 81% voted for Spotify and 19% voted for Apple Music out of 31 people. 
In conclusion, Spotify is the preferred app of Los Al students, over Apple Music. Each have quality features specific to their users and provide innovative ways to listen to music. Which one do you prefer?