Club spotlight: Paper Airplanes Club
A refugee assistance club with an unsuspecting name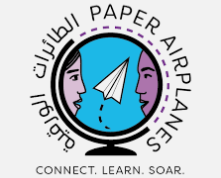 LOS ALAMITOS, CA — Although its name suggests differently, the Paper Airplanes club is part of a worldwide initiative to teach English to refugees from conflict zones, allowing them to pursue a brighter future.
Bailey Ulbricht, a UN Peace Corps member stationed in Turkey, formed the Paper Airplanes Club as a non-profit organization. Volunteer tutors in this club use Zoom to teach their pupils from other countries. The term "paper airplanes" refers to the bridge that is built between tutors and pupils. Many of these refugee students are from conflict-torn nations, such as Syria.
However, teaching these students is not only a learning experience for them The tutors themselves get to learn about their students' native culture as they educate them about English. Perhaps the greatest takeaway besides education is the interactions between the teacher and students. These bonds are capable of breaking down the barriers that may initially prevent a diverse set of people from communicating.
Cultures in the Middle East are rich with ancient traditions mixed with other cultures that have been introduced to the region over the years. In various Arab and Middle Eastern cultures, hospitality is a valued trait that many families carry with them. Furthermore, many advances in mathematics, art, and science were historically made in the kingdoms that dotted the region.
However, language barriers can make it difficult for these migrant families to share their hospitality and knowledge with people in their new homes. This makes Paper Airplane Club all the more important to help these refugees feel comfortable in an English-speaking workplace and community.
"The English program gives us the chance to talk with native speakers and get to know students worldwide, benefit from their knowledge, and learn about their cultures," Rama Ballan said.
In addition to being able to interact with coworkers, the sharing of knowledge across cultures is what can lead to these migrants finding new lives.
Women and other minorities face unequal treatment in several parts of the world, particularly in the Middle East. Paper Airplanes Club, on the other hand, has initiatives that allow these refugees to follow educational paths that women could not have pursued in their original homes. Women in Tech is one of these initiatives, which allows female students to pursue careers in coding and computer science.
Prospective members who want to participate in this uplifting movement and make a difference in the lives of refugees must meet certain qualifications. Because members volunteer to teach pupils a new language, they must be committed and patient.
Before being allocated a student, aspiring tutors must complete a brief training program. When they finish training, they use Zoom to educate their student whenever they are available. Because the tutor is responsible for lesson scheduling, it is their obligation to select the best time to teach their student while keeping their timezone in mind.
Students that work for the Paper Airplane club also obtain community service hours that can be applied to their college applications. Applications for potential tutors are open through the end of November this year for individuals who want to be a part of this wonderful transformation.
To receive information on how to begin your time with Paper Airplane Club by texting @paperairplanes23 on the Remind app.