'Once Upon a Prom': A fairy tale night
Los Al had a magical time at Prom 2023
LOS ALAMITOS, CA – Once upon a time, there was a high school in Los Alamitos filled with Griffins. The Griffins were skilled in academics, athletics, arts, activities, and more. But most of all, they were the life of the party.
On Saturday, May 20, 2023, Los Alamitos High School hosted its 2023 prom with a theme "Once Upon A Prom." The event took place at the Santa Anita Race Track from 7:30 to 11:30 p.m.. Prom was open to juniors and seniors who purchased a ticket.
The dance's venue was both indoor and outdoor. Outside, there was a set of tables covered in black cloth that served as a casino. The tables featured both blackjack and poker; however, no betting was done with actual money. Across from the casino tables there was a small stage where anyone could go up and sing karaoke. The microphone was connected to speakers that blasted to the entire outside venue for everyone to hear. Students had an awesome time screaming their hearts out to Taylor Swift, Bruno Mars, and more.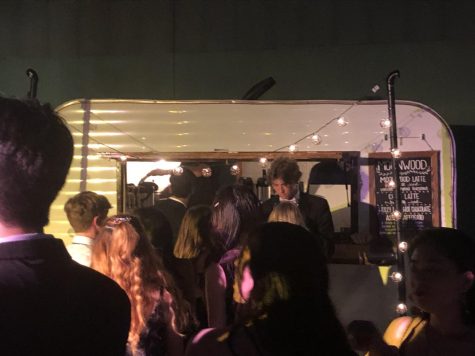 Also outside was a small coffee cart that featured lattes, hot chocolate, and affogatos. It was a great way for students to warm up after spending time outside in the chilly outdoor area. Next to the coffee cart was an inflatable photo booth where students could pose for pictures with their friends and print out small picture sheets to take home. 
The final feature of the outdoor area was the horse drawn carriages. There were two large carriages covered in glowing white lights. Both carriages were drawn by two white horses. Students could sit in the carriages and enjoy a short ride around the venue's garden before returning to the dance.
Unfortunately, it started to rain halfway through the dance, which caused all the outdoor features to shut down except for the carriages and the coffee cart. Still, the inside features of the venue were just as fun. 
"I really enjoyed the night, except for when it rained," senior Landon Small said.
In the far corner of the room, students could get airbrush tattoos complete with a glitter finish. There was a large variety of options, ranging from hearts to Disney characters to Hello Kitty.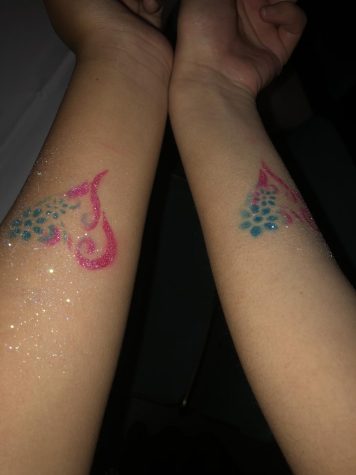 There was also a game room in the back of the venue with two Nintendo switches and two PlayStations. When students needed a break from dancing and singing, they could take some time to relax and play Minecraft or Mario Kart with their friends.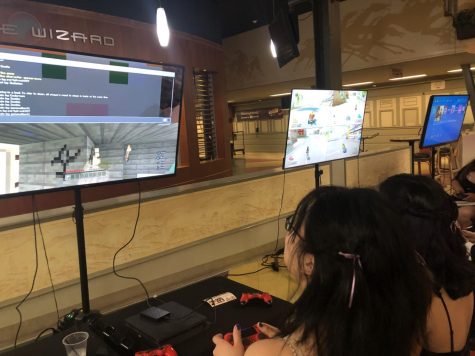 The dance also had a large selection of food for students to munch on throughout the night. There were veggies, crackers, dip, and desserts laid out for students to take as they pleased.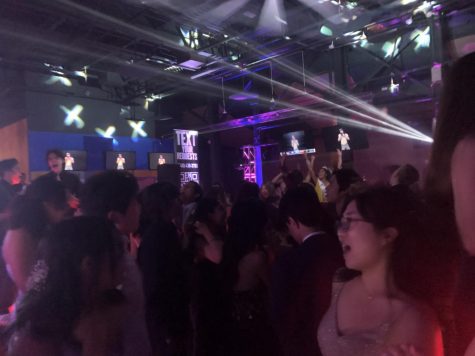 The main attraction of the night was the dance floor, which was packed the entire night. The DJ played both recent hits and classic oldies that every student could enjoy and jam out to.
"Overall, it was pretty solid," said junior Style Turk. "The after party is where it's at."
At about 10 p.m., ASB members stepped onstage to announce the winners of prom royalty. There were five nominees for each of the four categories: prince, princess, king, and queen. Prom prince went to Jack-Nelson Couto and princess went to Polly Durbin. Prom king went to Cameron Stewart and queen went to Sydnie Lobo. Congratulations to all the nominees and winners!
Although not every student stayed until the end of the dance, those who did mainly stayed on the dance floor and sang their hearts out until the very last second. The fairy tale night closed out with the DJ playing "Don't Stop Believin'" by Journey. 
"I think prom is a high school staple, so it's definitely worth going," Turk said to future juniors and seniors about next year's prom.