Griffin Games 2023
What to expect from our yearly school-wide competition between grade levels
LOS ALAMITOS, CA — As of March 20, it is time for the annual Griffin Games held on our school campus to begin. For those unfamiliar with this event, all grade levels participate in this fun activity every spring. This article will introduce this unique yearly Los Al tradition to those unfamiliar with it and also show the new aspects that will be implemented by ASB for 2023.
Used to help Los Al students bond through fun activities, in this event, games are played between two teams during the competition. In order to make it fair, each team is composed of one lower class grade and one higher class grade; the red team is made up of Freshmen and Seniors, while the Blue team has Sophomores and Juniors.
"The Red team continually dominates every year but will we see the Blue team clutch up this year?" asked ASB president Jacob Lasao.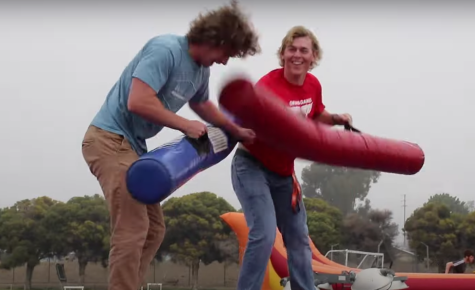 Activities from previous Griffin Games include various inflatable obstacle courses, pugil stick fighting, as well as different table games like air hockey and foosball. Physical games like the obstacles and pugil fights provide an exhilarating rush of excitement that could brighten students' days after weeks of mundane and boring schoolwork. However, these previous activities are not the only things planned for this year's festivities.
"We've completely revamped it to get you guys directly involved with NEW insane activities," Lasao said.
Along with the games during the event, other games and the days leading up to the event help decide the winning team. This includes the Dress Out days that ASB uses to get its students into a festive mood, so stay updated with the ASB and Los Al Instagram pages.
"You can earn points for your team by winning those activities or showing out for Dress Out days that will be posted on Insta," Lasao said.
"I'd particularly like to thank our Assemblies team who has been at the forefront of planning: Brandli, Miranda, Saylor, and most notably our lead on this event Blake Brennan," Lasao said as a thank you to his fellow ASB members.
If you do have misconceptions about whether or not this event will be fun, attending it would be the only way to find out. The previous Griffin Games have had their inconveniences and imperfections, so ASB has tried very hard to improve this year's games to the best they've ever had.
"If you all think it's totally lame, trust me it's not – especially not this year," Lasao said.